---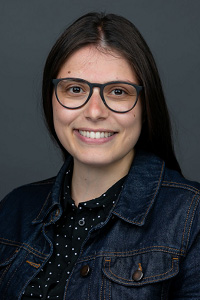 CRISTINA LENTO
Lab Manager
Cristina obtained her BSc at York University in Specialized Honours Biochemistry. For her undergraduate research project, she worked in the Audette Laboratory on the crystallization of the TrbB protein involved in F-plasmid conjugation. She then went on to complete an NSERC USRA in the Wilson group which involved studying the oligomerization pathway of the K122-4 pilin from P. aeruginosa using ESI-IMS. This sparked her interest in mass spectrometry, and went on to complete her MSc in the Audette/Wilson lab – where she continued to study protein-protein interactions of the K122-4 pilin and between transfer proteins involved in bacterial conjugation using TRESI-HDX. Outside of the lab Cristina enjoys cooking, writing, and travelling.
---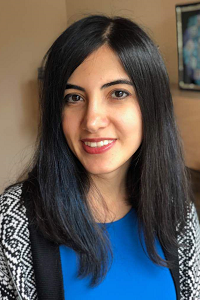 BANAFSHEH MEHRAZMA
Post-Doctoral Fellow
Banafsheh earned both her B.Sc. (in Pure Chemistry) and MSc (in Physical Chemistry) in her hometown, Tehran. In her master's degree, she learned about the power of "biocomputational chemistry". She used GROMACS, a Molecular Dynamics simulation software, to study the structural changes in a damaged DNA. Later, she joined Dr. Arvi Rauk's group, at University of Calgary, where she received her PhD in 2018. She used Molecular docking and Molecular Dynamics simulation to study amyloid-beta (Aß) aggregation and also interaction of Aß peptide with a series of designed anti-Aß aggregation peptidomimetics. Currently, Banafsheh joined Wilson's lab, where she studies the interaction of small molecules with disordered proteins and antibodies. Although, barely something makes her more content than doing research, she loves to travel, and she enjoys volunteering for UNICEF.
---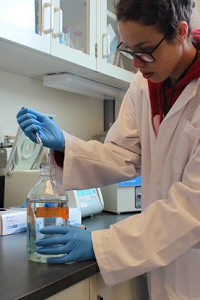 ESTHER WOLF
PhD Student
Esther recently transferred into her PhD after a combined 3 years of undergraduate thesis and Master's work in the Wilson Lab. She absolutely loves protein mass spectrometry and is excited to see the field continue to grow. In collaboration with the Dickinson lab at the University of Chicago, and courtesy of immense help from the 2020 Mitacs Research Award, her current project uses HDX-MS to investigate the BCL2 family proteins and their distinct binding selectivities despite superimposable 3D structures. Concurrently, another HDX-MS project is in the works with the Fischer Lab at St. Jude Children's Hospital in Memphis. Esther hopes to one day have many dogs and a south-facing window for growing indoor plants.
---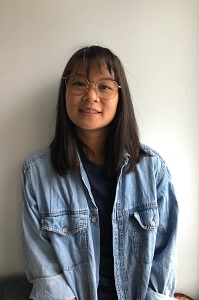 VIMANDA CHOW
MSc Student
Vimanda completed her B.Sc in Zoology with a focus to become a veterinarian. Later to discover, her interest in research during her co-op semester at Sanofi Pasteur. At Sanofi, Vimanda gained hands on experiences working on various qualitative and quantitative method development using HPLC and SEC-MALs. Currently, Vimanda focuses on understanding the dissociation and unfolding of Pertussis Toxin using Collision induced Dissociation/Unfolding (CID/CIU). In addition, she is currently using nanodiscs to understand the interaction between Cytochrome C and different charged phospholipids. When not in the lab, she is probably at the gym, exploring new trails or at a local stationary shop.
---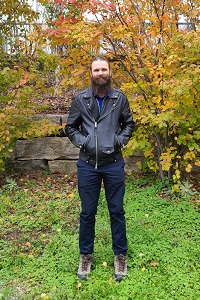 ALEX LISTIGOVERS
MSc Student
Alex completed his B.Sc. (Chemistry) at Queen's University in Kingston. After graduation, Alex worked at Sanofi analyzing vaccine antigens using Q-TOF LC-MS. His work in the Wilson lab continues along this path, by using TRESI-HDX to examine the impacts of crosslinking on protein dynamics. Chemical crosslinking is commonly used to inactivate toxic proteins for use in vaccines, these modifications impact both toxicity and immunogenicity of the protein. Alex is also using TRESI-HDX to investigate the allosteric changes in Antithrombin-III by heparin, and heparin's role in stabilizing the Antithrombin-III-Thrombin complex.
---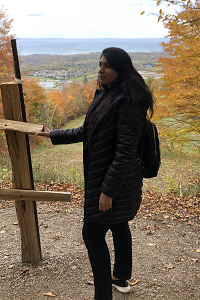 AYESHA MAQSOOD
MSc Student
Ayesha recently joined the Wilson lab for her MSc after completing her BSc at York University in Honours Biochemistry. She is interested in studying the structures and dynamics of proteins that are high value oncology targets for pharmacologic intervention. Currently, Ayesha is using HDX-MS for structural elucidation of STAT5b protein and its oncogenic driver mutation, STAT5BN642H, in collaboration with the Rauscher and Gunning Groups at University of Toronto. Besides doing research, Ayesha loves to travel, drink iced coffees and watch The Office on repeat.
---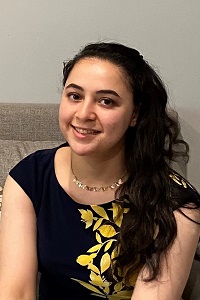 MARWA MOHAMED
MSc Student
Marwa obtained her HBSc in Clinical Pharmacy, being the top of her class. During her undergraduate she completed summer internships in multiple pharmaceutical companies such as in Pfizer, Sigma and Sanofi in her hometown of Egypt. She was awarded a USA research fellowship and trained in the areas of medicinal chemistry, nanoparticles and clinical pharmacokinetics. She is currently pursuing a MSc in Chemistry, her research focuses on elaborating the structural properties of an antileukemia protein (L-Asparaginase) and its intramolecular interactions using TRESI-HDX mass spectrometry. Outside lab, she enjoys playing tennis, hiking, and yoga.
---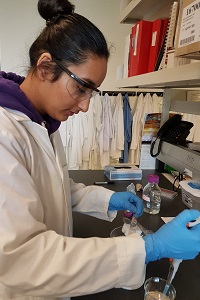 DAVNEET PARMAR
Undergraduate Student
Davneet is a fourth-year student at York university in the Specialized Honours Biochemistry program. She has joined Wilson's lab to complete her honours thesis project where she'll be employing TR-HDX MS to determine the effectiveness of potential AD drug candidates in tau binding such that its aggregation into neurofibrillary tangles is prevented. More specifically, her research focuses on probing tau-drug binding sites as well as investigating the resultant anti-aggregation effects of AD drug candidates for amyloidogenesis inhibition.
---
DINEESHA SUBASINGHA
Undergraduate Student
Dineesha is currently in her final semester at York University to complete the BSc of Chemistry program. She has joined Dr. Wilson's lab to work on her honours thesis project, where she will be working alongside Cristina & other members of the research group on improvements that can be made to the current TRESI-HDX-MS set-up. Her research will focus on making the system more user-friendly snd increasing reproducibility.
---
ALUMNI
Kerene Brown (2020, PhD)
Ruth Knox (2019, PhD)
Lucienne Nouchikian (2019, MSc)
Xiaojing Huang (2019, MSc)
Lisa Szymkowicz (2019, MSc)
Irina Oganesyan (2018, MSc)
Antoine Bourget (2018, MSc)
Shaolong Zhu (2017, PhD)
Peter Liuni (2015, PhD)
Cristina Lento (2015, MSc, Co-Supervised by Dr. Gerald Audette)
Preet Kamal Gill (2015, MSc, Co-Supervised by Dr. Golemi-Kotra)
Diana Resetca (2014, MSc)
Tamanna Rob (2013, PhD)
Yanfang Liang (2012, PhD)
Araby Jeganathan (2012, MSc)